The Week in Review (14 Aug 2020)
Wherein, we kick off this Friday newsletter in style
I got my start as a professional writer in the summer of 1998. Earlier that spring, I had written a lengthy and (admittedly snotty) letter to the editor of the local paper. He told me he wouldn't run a letter that long, but if I elected to join his team as a string-writing columnist, he'd consider it as my first column.
I agreed.
A year later, that editor moved on and I replaced him. I spent two years running the opinion desk — including a stint as the only member of the editorial leadership team in the office on the morning of 9/11, an experience that will haunt me forever — then I left the newspaper for greener pastures. Six months later, the editor-in-chief called me, asking me if I'd serve as a part-time, short-term special editor to coordinate the paper's massive 75th-anniversary issue. I cheerfully assented. Not long thereafter, the EIC fired the copy chief (whose first language, I note with raised eyebrows, wasn't actually English) — and asked me to replace her, a role I occupied for about six months, whereupon I found myself ensconced within the EIC's office myself.
I didn't last long in the Corner Office. Seven months, I think. I didn't enjoy the support of my board of directors in part because of an editorial endorsing the "wrong" candidate in that year's presidential election. So in early 2005, I left journalism.
Over the intervening years I worked as a contract writer and editor for several major online-media corporations. I co-founded, then folded, a traditional micro-press. I've spoken at writers' conferences, hosted high-performing writers' groups, and trudged through the author sales events.
But now it's different. I've always aspired to serve as the master of my fate, the captain of my destiny. I've always dreamed of living by the written word. But the safety net of my "other" industry of healthcare meant I wasn't hungry enough to do more than dally with it all. Then I left healthcare in 2018. And now the Covid-19 crisis has so undermined my contract work that I'm left with the sink-or-swim choice to do something different.
And so, The Diction Dude — a shell company I started two years ago — is now ready to launch in toto. This week, I kick off this newsletter, a podcast, and my new book (the first of 10 in the queue!) about the business and craft of writing.
This journey represents an existential leap of faith for me. I ask for your support to see this idea thrive, so that I can help aspiring writers to hone their craft, find their voice, and join their tribe.
And also, to afford cat food so the feline overlords don't eat me in my sleep.
News of the Week
Some stuff of interest from the last seven days:
New at Diction Dude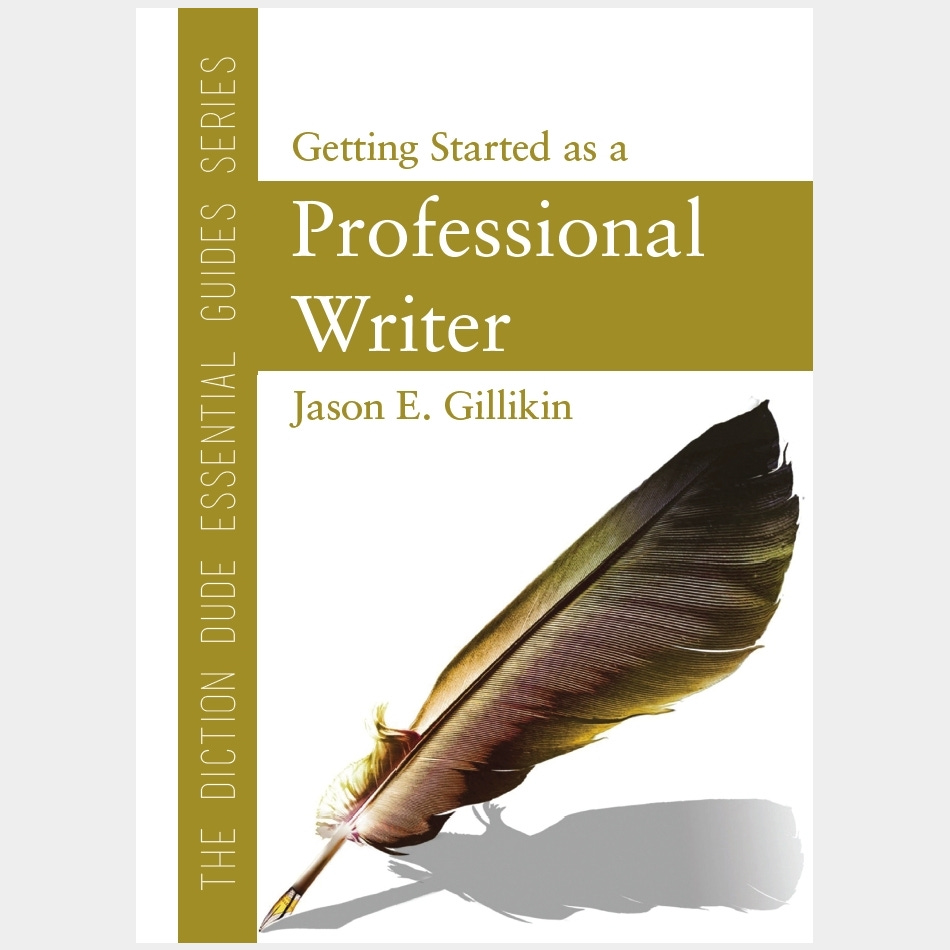 The last week has been — how to say it? — insanely busy. For starters, my book The Diction Dude Essential Guide to Getting Started as a Professional Writer is now in pre-press and available from Lakeshore Technical. You're free to buy it in either print form (they'll ship in early September) or through a PDF of the interior (immediately available) at the Diction Dude website. It's roughly 55,000 words of the stuff I think brand-spankin'-new authors need to know to at least get to the point where they have a story or two worth shopping.
Also new? Check out the Diction Dude Podcast. Relevant links are on my website.
If you find this newsletter helpful and would welcome it each Friday, please share the love.
Reader Q&As
Given that this post presents the inaugural issue of The Diction Dude Weekly Update, clever readers will no doubt realize that there are no actual readers to offer Qs. But never fear! I'm a part of a politics-and-culture Discord server wherein, just this week, a person in the Literature channel asked me a question:
Is there a list of publishers and/or agents who are non-woke anywhere? I'm nowhere finishing the book I'm writing (~ 2 years away, probably). But I'd like to know how to find out which places won't require me to build in subtle propaganda. So much literature nowadays seems like propaganda was forced into the book, and I wonder if those people signed up not realizing that they would be forced to bend the knee.
I'm aware of no such list. It depends on what you're writing. In the non-fiction space, some conservative publishers (e.g., Regenery) do quite well, but you need an agent to pitch them. In the fiction space, the industry leans overwhelmingly progressive. Lee & Low Books commissioned an academic study a year ago about diversity in publishing. They discovered (not that anyone was shocked) that publishing at all levels of employment is significantly more female and non-heterosexual than the population at large. (It's roughly on par for ethnicity and disability status.) The NYT reports that booksellers, particularly the indies, are overwhelmingly progressive in staffing even if they're not always obvious about it with overt virtue signaling in-store.
Your best bet is to look for an agent who's repped authors who align to your values. Alternatively, many small presses remain mostly non-ideological, but the smaller the press, the less market reach it offers. A self-published author with marketing hustle often out-performs small-press sales activity, alas.
However! What really matters to agents and editors is the estimated P&L. A provisional profit-and-loss statement that suggests the book will perform well in the first calendar quarter after its release usually earns a more respectful hearing than a book that, at best, might break-even relative to investment and competitive titles. I'd be more concerned about a project's P&L than about overt ideology right now, unless you're writing young-adult stuff or a handful of problematic genres that have been captured by cancel culture.
(Or, I guess, if you're writing allegorical stuff that's blatantly contradictory to progressive norms. You generally aren't going to be asked to stuff woke themes into a relatively apolitical book, despite a few high-publicized stories to the contrary.)
Share your question with The Diction Dude:
Business Insight
I've seen a few emerging authors make a good-faith, but harmful, mistake: They assume that if "average" acceptance rates hover between 3 percent for not-very-selective presses and agents, and a hundredth of a percent or less for the highly selective markets, then they're bound to eventually land a publishing contract of some sort if only they spread their stories to a wide-enough audience of gatekeepers.
At the tail-end of 2016, I wrote a blog post for the small press I co-founded. We summarized our editorial responses to that year's submissions. From a high-level view, it looked like this: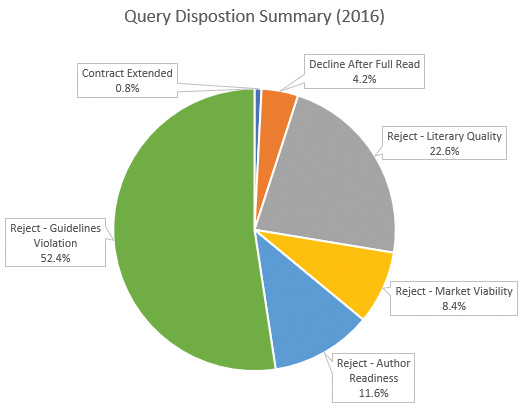 And if you parse it, you'll see that roughly 5.0 percent of all submissions earned a full review of the manuscript. Which is good. We only accepted 0.8 percent of submissions, which is about typical.
Look, however, at those other categories. More than half of all submissions got kicked out without any review at all because the submitter didn't conform to our editorial guidelines. Granted, we had robust guidelines and a fairly precise and non-standard submission process, but stuff that failed out here was 100 percent an author-avoidable problem.
Cluster the three next-largest disposition reasons (literary quality, market viability, author readiness) into a 42.6-percent cohort that basically says, "The author submitted according to guidelines, but the material submitted was not ready for prime time."
Flip the math around: Only five percent of submissions are actually worth reading. Reflect on that. It's not that "the editors didn't like it." It's that it wasn't worth reading in the first place. There was still plenty of time for the editors to not like it, after they actually read it. But they only read it 5 percent of the time.
Authors, historically, have chafed when I share this info. Everyone assumes that they're not the problem and that I'm being snotty or condescending when I suggest that authors are solely accountable for 95 percent of first-pass rejections. But here's the thing:
Literary Quality: No one's perfect at self-editing because we're often too close to our work and we're blind to gaps in our technical acumen. That's why well-run critique groups are critical for authors' success. Experienced editors can sniff out a self-edited manuscript within the first 100 words, guaranteed.

Market Viability: Novels that don't meet generally expected genre-and-length norms are wickedly difficult to place in the retail market. As such, almost no publisher (beyond a niche micro press) will prove willing to take a financial risk on such a project. Yet very many items in the typical slush pile consists of odd fusion genres, difficult-to-price lengths, or plots/conflicts/characters that don't substantially conform to archetypes. Again, a critique group will help solve this problem.

Author Readiness: The by-author-for-author blogs sometimes grow frustrated with the idea of platform, but platform is useful precisely because it reduces your relative risk with publishers. In a typical contract, the publisher is on the hook for 100 percent of losses but shares in the profits. Because most books fail to even break even, when a provisional profit-and-loss estimate comes in, the contribution of the author of an expected number of first-quarter sales makes a huge difference to the P&L. An author who can bring 1,000 high-probability sales (thanks to a mailing list of 25,000 names) offers a much lower financial risk than an author who struggles to find 50 friends and family who might be strong-armed into buying the book. Major projects, or audacious ones, need that author contribution to win over conservative P&Ls.
All of these top-four rejection reasons (including guidelines non-conformance) are 100 percent avoidable by the author. Avoiding those things, by converse, marks someone as a professional writer. And editors and agents are much more willing to consider the work of a writer who presents professionally than to hope that an awful cover letter, a non-standard submission process, and the lack of a platform will translate into a beautiful manuscript hidden within.
Editorial gatekeepers are much more willing to pass on an unread masterpiece than to spend the time examining each submission in detail hoping that first impressions were wrong.
If you had queried us in 2016 and avoided all the avoidable errors, you had a roughly one-in-six chance of obtaining a query. A much better spot to be, I think, than in the 95 percent that weren't worth reading.
Craft Insight
Beware long stories with a single point-of-view character. The longer the story, the more value you'll obtain from introducing several characters who enjoy point-of-view privilege. Here's why.
Long stories told from one person's perspective grow tiring to read, particularly if that character evidences some tic like reflexive sarcasm or self-doubt that proves tolerable only in small doses.

Readers can't fully humanize any given point-of-view character except through the eyes of other point-of-view characters, any more than you can fully flesh out yourself by staring into a mirror. Thus, your POV character never really becomes three-dimensional to your readers, despite that this character mediates the entire story.

Using just one POV character severely circumscribes the author's flexibility to incorporate subplots that involve other characters.

Single-POV stories often require "coffee-shop scenes" wherein other characters bring the POV character up-to-speed on something critical to the story — not for the character's benefit, but for the readers' background knowledge. It's implausible in one story with several characters that the POV character knows everything salient to the story from the narrator's 50,000-foot perspective, but that's the framework that a single-POV story enforces.

Single-POV stories are especially amenable to info dumps by the narrator that assert private facts about other characters for the sake of contextualizing the POV character's thoughts or actions.
My wholly unscientific and heavily caveated suggestion: Add a primary POV character for every 20,000 words of manuscript.
(From The Diction Dude Essential Guide to Getting Started as a Professional Writer, pp. 93-94.)
Opportunities
Got a personal slush pile ready to burn through? These short-turnaround contests might just be up your alley.
Next week, we'll look at some contexts with a longer turnaround time.
Afterword
How can tell your clock is hungry for more power when its batteries start to fade?
It goes back four seconds.
Stay safe, sane, and productive. See you again next Friday.